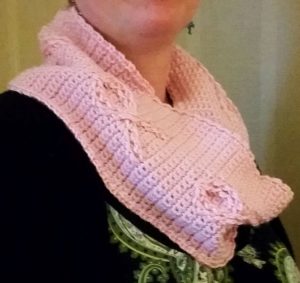 In the United States, October brings cooler temperatures, pumpkin spice lattes and a renewed focus on breast cancer awareness. According to the Breast Cancer Research Foundation in NY, a woman in the US is diagnosed with breast cancer every 2 minutes. That is an astounding amount of women, and their loved ones, that are affected. Chances are, dear reader, you know at least one person that has battled breast cancer. For me, it is my great aunt, Diane. She was diagnosed a few years ago. As one of the key role models in my life, the news hit me like a ton of bricks. I had no idea how to help, so I started making things for her. She was the recipient of a gemstone necklace, and 3 hats: the Cabbage Rose Cloche, the Simple Cloche and the Mini Brim Hat. Each of these simple hats became some of my first self-published free crochet patterns. These gifts were my way of showing my love and support for her oncoming storm of medications, tests, and surgeries. Today she is cancer free, thanks to the research and development of treatments that are largely funded by foundations and non-profit organizations.
It is in support of her and all of the other women fighting this battle, that I am announcing my first paid crochet pattern. It is available on Ravelry for $4.00 USD. All proceeds will be directly donated to the Breast Cancer Research Foundation. I chose this organization based on the groundbreaking work they are doing to prevent and cure breast cancer. They have been recognized by Charity Watch, Charity Navigator and Consumer Reports as being one of the top rated breast cancer charities in the United States.
The Breast Cancer Cowl is made with 2 skeins of Caron Simply Soft, a worsted weight yarn that is easy to care for and comfortable to wear. The three dimensional ribbons are created with crochet cables on a single crochet background. The sample shown has 10 repeats that is joined to create a long cowl. It can hang as a long loop or be wrapped twice around the neck for extra warmth. This pattern was created to show love and support and to raise awareness of a worthy cause.  Don't feel limited to pink; you can show your support of many causes by wearing different colored ribbons. Check out this great list of causes and their coordinating ribbon colors.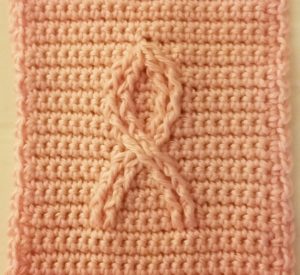 The Fine Print of Pattern Use:
This pattern is being sold to raise money for breast cancer research, so please continue to spread the love by making these as gifts or selling the finished products to raise even more funds. Please credit Dianna Judge @ ArtsyDaisyCrochet.com for the design on any finished items you sell. The written pattern or any part thereof may not be reproduced, published or shared in any way without the written permission of the designer. You may share photos from the pattern as long as credit is given to the designer. Thank You 🙂