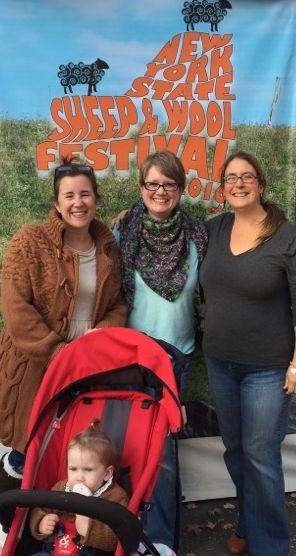 Did you get to go to the NY State Sheep and Wool Festival in Rhinebeck?  If not, you missed an amazing experience.  If you did, you know what I mean.  It was my first time and it was magnificent.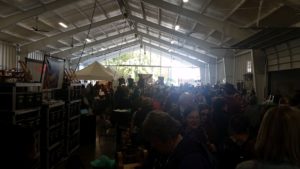 Inside one of the multiple barns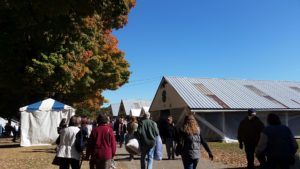 The festival is held on the Duchess County Fairgrounds in Upstate NY.  It was a bit chilly for most of the people there, but this Colorado girl was happy in a t-shirt.  The clear blue sky and colorful trees provided the perfect backdrop for the day. Buildings and tents full of hundreds of vendors selling yarn, patterns, notions, finished items, animals, soap, spinning wheels, the list goes on.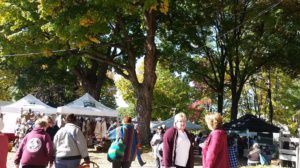 Beautiful skies and trees set the scene for a great day!
There were so many people there, it was hard to get around and see everything.  But it was worth it. Being in such a large group of like minded folk is very comforting.  Every moment you are asking another knitter/crocheter/spinner/felter about their beautiful handmade items.  Check out this Kristy Glass Knits video from the festival and you will get to see some of the amazing creations. Thank you Kristy for featuring me in your video 🙂
Here are a few of the amazing crochet pieces people were wearing.  I am in love with the jacket on the left.  The woman that made it said she didn't use a pattern and just pieced it together as she went. She even hand sewed in a green cotton lining.
The scrappy granny square sweater is one of those "so ugly it's cute" fashion pieces.  I sent this picture to my husband and told him it was the next project on my list. He did not think it was very funny. Lol. I still think it is fabulous! You check this gal out in the Kristy Glass Knits video too.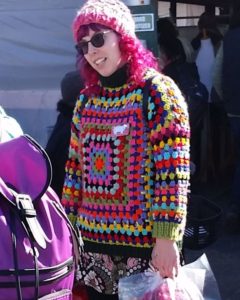 The most awesome Granny Sweater ever!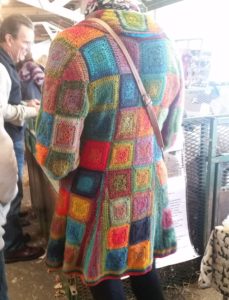 Stunning Granny Coat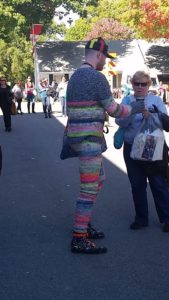 Stephen West talking with a fan
As if it couldn't get any better, I spotted Stephen West!  As you can see he was decked out head to toe in a fun knitted creation.  I love his use of color and his unabashed personality.  He could hardly get two feet before being stopped by another fan.  He was very nice to everyone and took lots of pictures. He just recently published a book of knitting patterns that you can find at your local LYS.
Lastly, there were so many animals to see and pet.  Llamas, alpaca, angora bunnies and every type of sheep you can imagine.  It is amazing to see the actual animals that the fiber we create with comes from.  It is truly a grounding experience.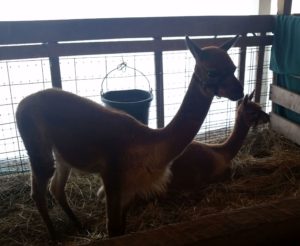 Sweet Young Alpaca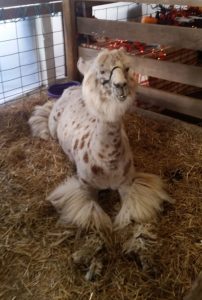 What a cute face on this llama!