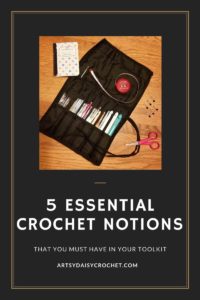 1. Hook Organizer
You are a crocheter, right? (of course you are or you wouldn't be reading this, lol) So you probably have a few crochet hooks…ok maybe a ton of them. So how do you keep them organized? There are many options available out there. You can buy a commercially produced product, something handmade by someone else (like on Etsy) or make your own. I have seen people use soda bottles, pencil cases and plastic bags to keep their hooks organized, or at least wrangle them into one place.

I am a big fan of roll up organizers with a flap over the top so the hooks don't go flying when you drop it. These types of organizers have Here is one from Clover that is available online or at your local craft store. There are also a ton of great ones available on Etsy like this one from HoneySuckleBarn or this one from EpidendronDesigns. If you want to make your own (you crazy hooker, you) there are a ton of great crochet patterns out there. Check out this great tutorial for a super cute hook case by Anna Nikipirowicz. I love this one!


2. Scissors
At some point in your project you are going to have to cut the yarn…unless every project you do ends exactly with three inches of yarn left at the end of the skein. No? Ok, then you need a handy dandy pair of little scissors or snips. I am a fan of Gingher Embroidery Scissors. They are small and cute and come with a protective leather sheath so you aren't stabbing yourself while crocheting. Fiskars also has some great options available. I especially love the 5″ Micro-Tip Fashion Scissors. The extra sharp tip allows you to get into tight spaces and the blades cut cleanly. Regardless of which you choose, make sure you have at least one pair that is 4″ or less for airplane travel.


3. Stitch Markers
When working on larger or more complex projects, stitch markers can save you from insanity. You can mark where increases or decreases go without having to count every time you get distracted. They are also great for helping to keep track of long lengths of stitching. I have done this multiple times when making blankets that need to be a certain number of stitch repeats. My favorite stitch markers are ones that I can put on and off with one hand, like the ones I offer in my Etsy shop (I know, shameless plug). They are cute and useful and I love them!


4. Measuring Tape or Ruler
You always measure your gauge swatch before starting a project, right? Riiiiiigggghhhhht…. Whether you do or you don't, having a measuring tape on hand is always a good idea. I use the small retractable tapes that you can get from your local LYS or craft store. I have a bunch of them at this point and I keep one with each of my projects. Here is a really cute Sock Monkey tape measure from Lantern Moon.


5. Mini Notebook & Pen
You have so many awesome ideas; you need a place to write them down.  A little notebook is the perfect place to jot down yarn specifications, pattern modifications, hook sizes for specific projects or your own pattern ideas. I like the mini composition notebooks that you can get at the Dollar Tree.


What notions do you have that you can't live without?